JadeWeserPort Freight Village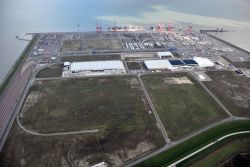 The freight village (GVZ) is located in the direct vicinity of the container terminal and offers high-quality industrial plots for different types of use by the logistics industry. The offer is predominantly geared towards providers of port-related logistics services such as freight forwarders and hauliers, contract logistics firms and maritime services providers.
The land has been earmarked for commercial and industrial use. Companies can erect buildings of up to 50m in height and operate multi-purpose halls, high-rack warehouses and picking and distribution centres 24 hours a day, 7 days a week.
The GVZ plots are offered as leasehold properties under a heritable building right contract [Erbbaurecht]; other lease options may be available. Optional on-site freight rail is available for half of the GVZ plots.
Contact: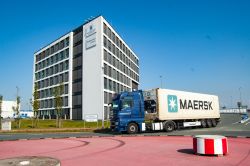 Container Terminal Wilhelmshaven
JadeWeserPort-Marketing GmbH & Co. KG
Pazifik 1
26388 Wilhelmshaven
Tel. +49 (0) 4421-40980 0
info@jadeweserport.de