Wilhelmshaven Energy Hub 2.0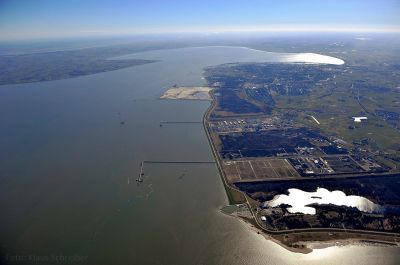 When it comes to achieving the climate protection goals set for 2050 and successfully implementing the energy transition, hydrogen plays a pivotal role. Together with renewable energies it has the potential to significantly accelerate decarbonisation across industry sectors.
Though Germany produces hydrogen from renewable energies, 'green' hydrogen must be imported in addition to ensure certainty of supply as needed. Suitable import infrastructure will be needed.
Its favourable natural nautical conditions, existing underground storage facilities with connections to the long-distance gas network and the large areas of land available for development make Wilhelmshaven an ideal place to choose as a hub in the hydrogen age. Of particular significance is its proximity to offshore wind farms. The wind power generated there is transmitted to a substation in Wilhelmshaven. From there it is fed into the electric grid.
Liquefied Natural Gas (LNG) Terminal
Wilhelmshaven has been contemplating the installation of a liquefied natural gas (LNG) terminal since the 1970s. The implementation of the plans, however, has so far been thwarted because there was sufficient gas available and LNG prices could not compete with pipeline gas prices.
Possible supply shortages loom in the near future because from the mid 2020s Germany will get its natural gas from just two major suppliers, Russia and Norway. LNG terminals are therefore planned to be installed at various places throughout Germany, among others in the Port of Wilhelmshaven. Its nautical and other advantages make it well positioned to import and distribute liquefied natural gas. Wilhelmshaven, which is also known as an energy hub, has already lined up several interested parties who want to bring in LNG, transfer it by pipeline to the nearby cavern in Etzel and supply Germany's high-pressure natural gas network.
Wilhelmshavener Hafenwirtschaftsvereinigung (WHV e.V.), a port business association, in conjunction with the Maritime Competence Centre in Leer (MARIKO GmbH) and the Oldenburg Chamber of Industry and Commerce commissioned an LNG study in 2017. The study revealed that Wilhelmshaven's deep-water port (still) is the most suitable place to install an LNG terminal on the German North Sea coast.
After all, about 10 billion m³ of gas are projected to be moved through the port annually, which is roughly 10% of Germany's annual requirements. Natural gas import points will thus be established at several locations, which increases supply certainty.
Apart from importing and moving large volumes of liquefied natural gas and natural gas through the port, Wilhelmshavener Hafenwirtschaftsvereinigung WHV e.V. hopes for a positive impact of the LNG terminal on the regional economy.