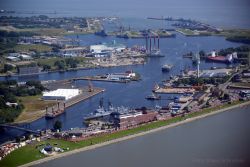 The Nordhafen port houses several multi-purpose terminals. Modern quay facilities support break bulk, container and RoRo vessels as well as ships carrying heavy-lift and project cargo. Moreover, the port is home to countless port-related businesses, such as newbuilding and repair shipyards, seaport services providers, contract logistics firms, providers of offshore and plant construction or technical services. It features RoRo ramps, a floating dock and a slipway, modern handling equipment and generously-spaced assembly areas.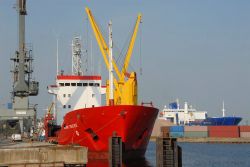 Water depth: up to 12m
Total quay length: 2,000m
Fixed quay areas: 150,000m²
Assembly areas: 40,000m²
Land available for newcomers: 100ha
More information on settlement options is available at NPorts.de.
Contact
Niedersachsen Ports GmbH & Co. KG
Pazifik 1
26388 Wilhelmshaven
Tel. +49 (0) 4421 409 80 800