Geographic Location and Transport Connections
The universal Port of Wilhelmshaven with Germany's only deep-water port is situated on the German North Sea coast between the River Ems and the River Weser on the western side of the River Jade estuary where weather conditions are favourable. At 23 nautical miles the passage from the open sea to the handling terminals in the Outer Harbour is very short.
All industrial land is connected to the network of Deutsche Bahn AG, the German national railway. On top, Container Terminal Wilhelmshaven includes a tri-modal terminal that is connected to 16 formation and preparation sidings (block train length).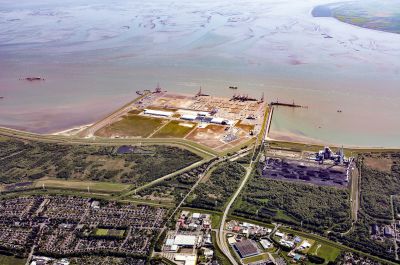 The A29 federal autobahn leads directly and without interruption into the industrial and port area. The Ruhr region is just two and a half hours away from Wilhelmshaven. Feeder roads, bypasses and ring roads add on to that so that all port areas and commercial land boast excellent road connectivity.
The JadeWeserAirport provides a direct connection to the national and international air transport network. Aircrafts able to tune to the land instrument landing system (ILS) can approach or take off even if visibility is low. The nearest international cargo airport is Bremen (about 100km away).