Container Terminal Wilhelmshaven (CTW)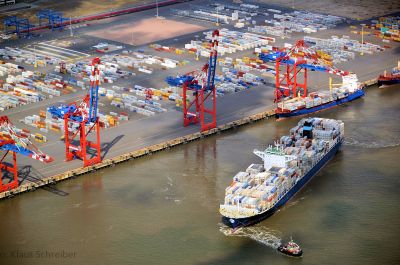 Compared with the other ports on the German Bight Container Terminal Wilhelmshaven offers a number of advantages such as an 18m-deep shipping channel, tide-independent access for ultra-large container vessels with a draught of up to 16.5m, a 700m turning diameter on the River Jade and a short 23 nautical mile transit from and to the open sea. EUROGATE container terminal boasts 1,725m of continuous quay line including berths that accommodate ultra-large container vessels with a carrying capacity of over 20,000 TEU. The terminal operates the world's largest container gantry cranes.
The JadeWeserPort freight village (GVZ) occupies 160 hectares adjacent to EUROGATE Container Terminal Wilhelmshaven; an arrangement that can easily be called unique. Their excellent transport infrastructure includes a traffic light-free connection to the A29 autobahn which leads all the way up to the port area, a direct connection to the rail network of Germany's national railway, Deutsche Bahn, and an intermodal terminal that connects to 16 formation and preparation sidings which can accommodate block trains.
Container quay
Water depth: 18m chart datum
1,725m container quay line
4 berths that accommodate ULCV
JadeWeserPort II
The construction of a second container terminal some two kilometres to the north is technically feasible and would make economic sense in the medium term. This is the outcome of a feasibility study commissioned at the end of 2013.
Contact: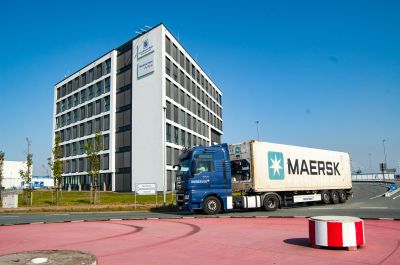 JadeWeserPort Realisierungs GmbH & Co. KG
Pazifik 1
26388 Wilhelmshaven
Deutschland Germany
Tel. +49 (0) 4421-40980 0
Fax +49 (0) 4421-40980 88